CMS function list
Main functions of "Creaid" CMS
Easy to operate and edit!
Direct editing

Create a website easily anytime, anywhere with a single click on your browser!
Easy page creation

Just create and update pages by selecting content parts that are template materials that do not disrupt the layout!
Selectable design

Freely choose a design from over 170 high-quality templates that are indispensable for your website!
Rich and versatile module functions such as creation of various contents and cooperation with external services
Diverse content

It comes standard with blogs, topics, email forms, events and albums. Multiple sites can be installed in one site!
EC shop

Easy installation by answering the wizard in the online shop! Credit payment is already supported!
External service cooperation

Installation is easy because it works with external services such as Google Maps, Analytics and YouTube!
Various other functions
Backup function

With backup function that can create backup data and undo previous work!
Publishing Settings

You can set whether to publish or hide each content, and make advance reservations for the publication date and time to be reflected on the public site!
Mobile site generation

Mobile site is automatically generated from PC site, so you don't need to create mobile site separately!
module
"CreaidCurrently, the following modules are available.
Modules with various functions will be added in the future.
There are restrictions on the modules that can be used depending on the contract plan.
Content system
External cooperation
Other

Free page
Topics
blog
Mail form
The event
album
online shop

Google Maps
Youtube videos
Twitter settings
Instagram settings
Google Analytics
Google webmaster
(

Search Console)

Content part editing
BASIC certification
RSS reader
Ad space
Goals and SEO settings
calendar
slider
Menu group
Metadata
As of November 2016
Interface/Operating environment
Control panel
"CreaidIs displayed on the screen of the editing site logged in to
The menu box is called "control panel".
The "Control Panel" is roughly divided into three types of menus, "Create", "Administration", and "System". In addition, the authority of the logged-in account and the number of menu items displayed depending on the expansion module in use vary. I will.
---
"Create"
You can change the position of parts and create/edit the parts that are actually produced, such as menu settings.
"management"
You can manage images and templates, set SNS and use additional functions.
"system"
You can do backup system and email management.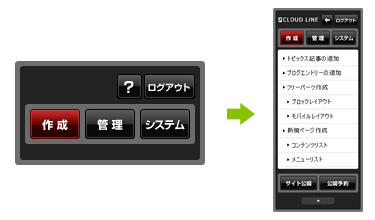 Operating environment
| | |
| --- | --- |
| OS | Windows Vista/7/8/10 |
| browser | FireFox / Google Chrome |
* Due to the termination of Microsoft's support for Windows XP, the operation guarantee for using our services on Windows XP and Internet Explorer 8 (32bit) has ended. There is no plan to guarantee operation on Internet Explorer.
*It does not support Mac OS. Please note that an error may occur.